Inside Beyoncé's exclusive Dubai concert: Duets with Blue Ivy in her First show in Four years
The Grammy-winning star gave a nearly 75-minute performance Saturday to help launch the city's new luxurious and opulent hotel, The Atlantis Royal.
Beyoncé gave her first public performance in over four years, singing songs she rarely performs onstage and duetting her daughter Blue Ivy Carter.
The Grammy-winning singer performed for nearly 75 minutes in Dubai on Saturday to help inaugurate the city's new lavish and opulent hotel, The Atlantis Royal. Her husband Jay-Z, parents Tina Knowles-Lawson and Mathew Knowles, and her three children, as well as celebrity visitors, influencers, and business executives connected to the hotel attended the invite-only event.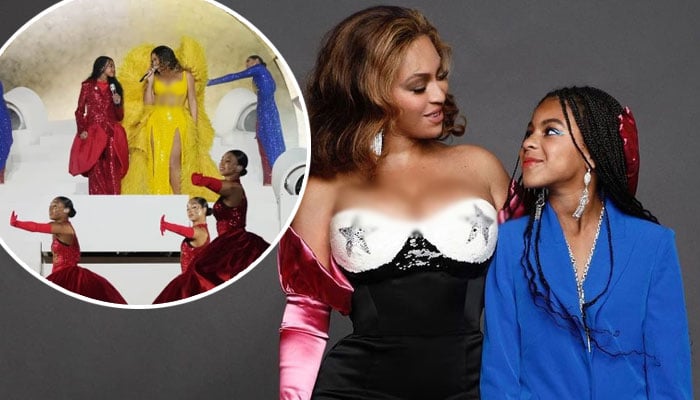 "My beautiful children have come to see their mother perform," Beyoncé said to the crowd.
Blue Ivy, 11, received loud applause from the crowd as she entered the stage to open with the song "Brown Skin Girl," her collaboration with her mother that won both of them a Grammy Award in 2021.
"Where are all my brown skin girls? Give it up for my baby, my brown skin girl, Miss Blue Ivy Carter," Beyoncé said.
Blue Ivy, who made a surprise appearance during her mother's performance at the Academy Awards last year, wore a red suit and sneakers, and her mother touched her face as she sang the song honouring dark- and brown-skinned women. They also collaborated on some choreography.
"To all the brown-skinned girls, I send my love. "If you like brown-skinned women, please help me sing," Beyoncé added.
Beyoncé opened the show in a fluffy, brilliant yellow costume, singing her version of Etta James' "At Last," which she memorably recorded in 2008 when she played James in Cadillac Records. Beyoncé also performed the famous song during Barack Obama's first dance with Michelle Obama during his 2009 inauguration.
"Greetings, everyone. "I am honoured to be here," she told attendees, who were not allowed to record video or take photos of the concert.
Beyoncé didn't perform any tunes from her latest album, Renaissance, but she did sing numbers she hasn't performed in a long time, including "Beautiful Liar," "I Care," "Ave Marie" and "Flaws and All." She gave a mostly soft, acoustic-styled set throughout the concert.
The singer performed alongside a full band, several background dancers and the 48-person all-female orchestra Firdaus — all donning bright red. The Mayyas, the all-female, Lebanese precision dance group who won America's Got Talent last year, also performed and wowed the audience. And fireworks burst in the sky and from the sides of the luxury hotel.
Beyoncé, on the other hand, delivered the energy.
She returned for her third outfit, this time in a tight red dress and long red stockings, and sang "Crazy In Love," beginning with the slowed-down, remixed version of the smash. But then Sasha Fierce came in and Beyoncé, the dancer, came back to life. She then wowed the crowd with energetic songs like "Countdown" and "Naughty Girl," and she danced in the sea while singing the classic "Drunk In Love." She finished the concert with the anthem as she climbed into the air amid a firework display.
Beyoncé also sang "Halo," "XO," "Be Alive," "Freedom," "Spirit," and "Bigger" on the show. She blended Camp Lo's '90s smash "Luchini AKA This Is It" with "Flaws and All." and on "Naughty Girl" she wove in some of the British-Indian musician Panjabi MC's 2000s hit "Mundian To Bach Ke," which ignited the audience (Jay-Z appeared on the remix, helping make the song popular in the States).
"Where are my naughty girls?" she asked the crowd.
Beyoncé received a big shout after swinging her hips to "Beautiful Liar," a song featuring Shakira. The singer donned pieces by Dubai's Atelier Zuhra, Lebanon's Nicolas Jebran, Ukraine's Frolov, and Dolce & Gabbana. The live event was choreographed by veteran choreographer Fatima Robinson.
Dubai has been buzzing for months about the private performance, and social media exploded last week with multiple speculations regarding Beyoncé playing in the city. Kendall Jenner, Rebel Wilson, Ellen Pompeo, Winston Duke, Letitia Wright, Liam Payne, Chloe x Halle, Bar Refaeli, and Swedish House Mafia were among those in attendance.
Beyoncé's most recent live performance was in December 2018. Her Dubai performance comes just two weeks before the 2023 Grammy Awards when she is nominated for nine awards and has the opportunity to become the most decorated Grammy winner of all time.