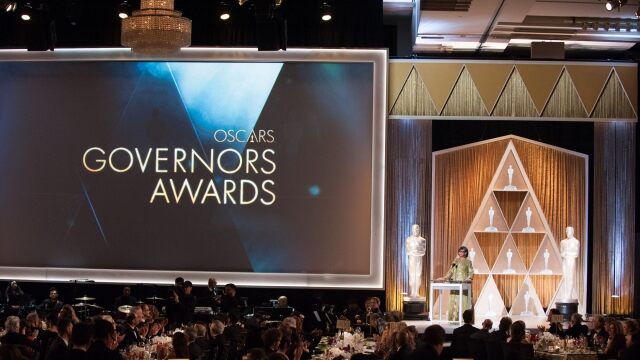 Oscar hopefuls return in large numbers to the Governors Awards as the Academy event turns 13
Adam Sandler, Jennifer Lawrence, Tom Hanks, and Cate Blanchett were just some big-name contenders who packed the Fairmont Century Plaza's ballroom on Saturday night.
In the previous season, the Omicron surge of COVID prompted the Academy to postpone the Governors Awards until the Friday before Oscars Sunday, outside of the customary pre-Oscar nomination voting window, and only the honorees and their table guests attended.
In celebration of honorees Michael J. Fox, Diane Warren, Peter Weir, and Euzhan Palcy, as well as not incidentally to pose for pictures next to the Oscar logo on the red carpet and rub elbows with celebrities, nearly everyone who has a prayer of landing a nomination found their way to the Fairmont Century Plaza's ballroom on Saturday night for its 13th edition of the ceremony.
Studios spend a lot of money acquiring tables at the Governors Awards so they can later provide seats to their ponies in the Oscar derby, and they obviously had no trouble filling them this year. Since I've been covering the Hollywood awards shows for so long, I've hardly ever been in a room with that many celebrities. One couldn't turn around without running across someone, like Tom Hanks as Elvis or Cate Blanchett as Tar or Adam Sandler as Hustle, or Jennifer Lawrence as Causeway.
A few well-known people attended to participate formally in the proceedings. In addition to being a guest of honor, Warren, a 13-time nominee for best original song, is up for a 14th nomination for the song "Applause" from Tell It Like a Woman. Plus, Woody Harrelson (Triangle of Sadness) presented to Fox. Viola Davis (The Woman King) presented to Palcy and was seated at her table, as was Ruth E. Carter (Academy governor and costume designer of Black Panther: Wakanda Forever) and both Keke Palmer and Jordan Peele (Nope). And Laura Dern (The Son) and Whoopi Goldberg (Till) are also Academy governors.
But most were not.
And I think that attendance was undoubtedly boosted by the fact that this year's picture and acting categories still seem so wide open. Everyone is still in the game, so to speak — even people from projects that might not seem like traditional Oscar bait, such as a cannibal movie (e.g. Bones and All's lead actress Taylor Russell), an R-rated comedy (e.g. Bros's co-writer/star Billy Eichner) and non-English-language blockbusters (RRR's co-writer/director S.S. Rajamouli) — so it was worth it to show up, even if one couldn't stay in town for long.
For instance, Ana de Armas (Blonde), who is filming a movie in Europe, informed me that she won't be able to come back to Los Angeles until February, but she made sure to attend this event anyhow. Despite spending time in another country filming Dune: Part Two, Florence Pugh (Wonder) was in the same room as Emma Corrin (Lady Chatterley's Lover). Eddie Redmayne (The Good Nurse) also arrived by private jet from London. Just the talent from Netflix projects, mind you!
The fact that so many high-profile media events, including guild Q&As and the like, are now scheduled around the Governors Awards weekend, including THR's acting roundtables, Variety's Actors on Actors, Deadline's Contenders, etc., does not necessarily deter attendance.