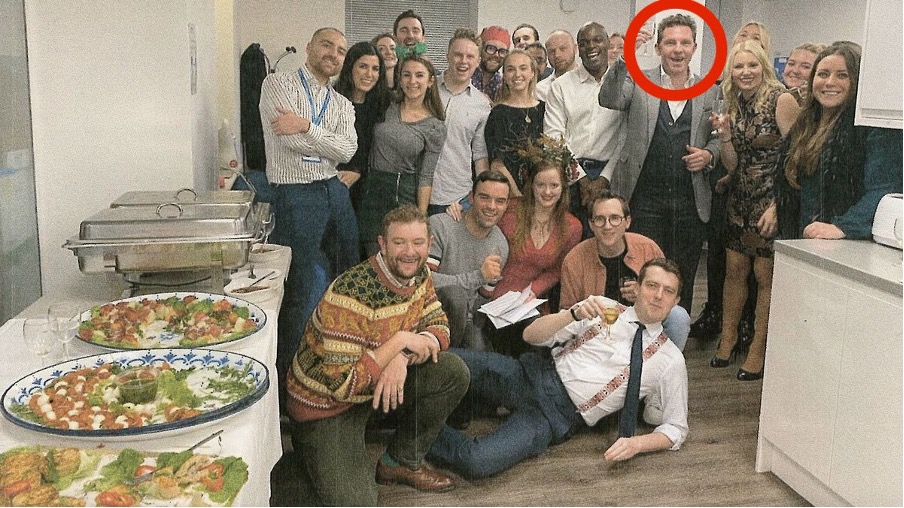 Holly Valance Hubby in Police Probe
The husband of Aussie B- celeb, Holly Valance, is in the centre of a UK political scandal that could end in the courts.
UK tabloid, the Daily Mirror, exposed the above picture of a "raucous" drinking session as part of its exposure of how Candy-friend, Prime Minister Boris Johnson, and his political cronies have been breaking the Covid-19 lockdown rules they've imposed on the British public.
The shaming pic shows 24 people crowded together – in blatant breach of lockdown rules – in a medium-sized room in the UK ruling party's Westminster HQ. The illegal drinking session apparently turned raucous with damage even being done to the building, according to the newspaper.
Holly Valance hubby, Nick Candy (seen highlighted in the picture), risks police action for breaking strict UK lockdown views by attending the illegal party last year.
The party was thrown by the doomed Shaun Bailey campaign team for Bailey's bid to become Tory Mayor of London; a campaign backed with cash from Nick Candy. As a result of the scandal since this picture came to light, troubled-but-minor UK politician, Bailey, was forced to quit his role as Chair of the London Assembly's Police and Crime Committee.
However, Candy is at risk. It has now emerged that London's Metropolitan Police have opened an investigation into the rave-up. Candy may be one of those questioned by COVID cops; and ultimately face a $14,000 fine.
A spokesperson for Mr Candy said: "Nick Candy attended the office of the Shaun Bailey campaign for an end of year review on 14 December 2021. He gave a short thank you speech to the team and spent some time with Shaun Bailey to discuss campaign matters before leaving shortly afterwards."
Candy is a major donor to the UK's ruling conservative party; particularly in London, the city where he and is secretive brother, Christian do much of their business (and need the approval of the City's planning bosses for their schemes).
A $14,000 fine shouldn't be hard for Candy to cover, you might think, but some question if the flamboyant showman is really the billionaire his lifestyle suggests. His business, Luxembourg registered Candy Ventures SARL certainly isn't cash rich. Its 2019 financial filings show the firm received a loan from Nick's brother, Christian Candy, worth over $80 million at the time Candy Ventures lodged its accounts. Not only that, but Christian Candy wasn't refinancing his brother's business for free: interest on the loan had accrued to over $2 million, according to the filed Candy Ventures Luxembourg accounts.
This loan suggests – as is often claimed in the media – that 'billionaire' Nick Candy relies heavily on financing from his younger brother, Christian: "the dominant one who bullied Nick and despised his wife, Holly".
The Daily Mail also cites Nick Candy as a friend of Britain's disgraced Prince Andrew: Candy and Holly were guests at the 2018 wedding of Prince Andrew's daughter, Princess Eugenie. Nick Candy certainly has no shortage of infamous friends: he appears on page 9 of the 'little black book" belonging to dead paedophile, Jeffrey Epstein, as republished by Gawker.