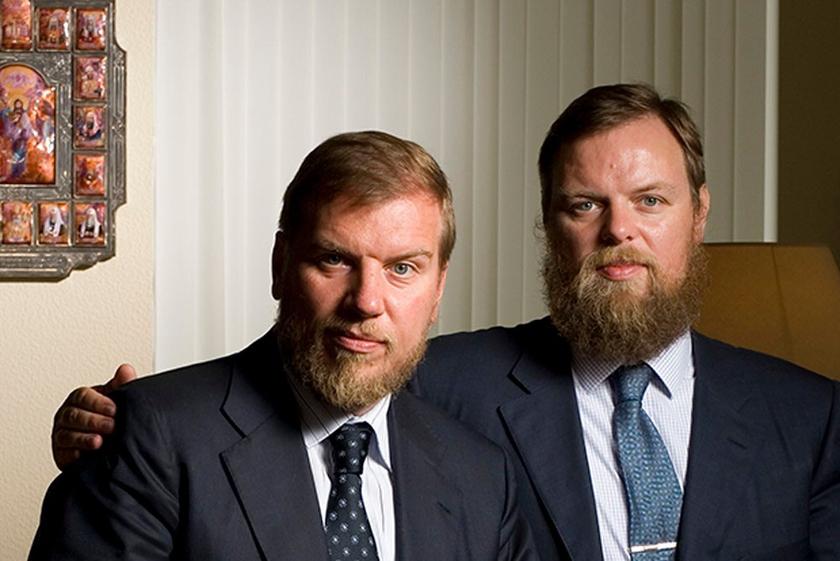 FALLEN RUSSIAN OLIGARCHS, THE ANANYEV BROTHERS, FACE CYPRUS LAWSUITS TOTALLING NEARLY $700 MILLION
The Ananyev brothers, Dmitri and Alexei, once used to be leaders in Russian high society. In 2017, Forbes cited them as amongst the richest men in Russia, together worth over $2.8 billion, largely based on the value of their bank, Promsvyazbank, known by its initials, PSB.
Dmitri served as a Russian Senator, and a Putin loyalist, from 2006-2013. Alexei, meanwhile, amassed the world's largest collection of Soviet realist art, housing it in his own museum in Moscow.
By 2010, PSB had grown to be the 9th largest in Russia. So big in fact, in that vast country, that it was recognised by the Russian central bank, in 2014, as "systemically important", in other words, 'too big to fail'. But fail PSB did, in December 2017, leaving a $1.5 billion black hole. Now the brothers are on the run from Russia. They and their wives are now being sued for hundreds of millions of dollars.
The brothers were already being sued in Cyprus for over $321 million by TRUST – more formally known as the Bank of Non-Profile Assets – Russia's 'bad asset bank or, as it likes to say of itself, "a Russian financial institution established within the framework of the Central Bank's activities for the improvement of the Russian banking system…. through consolidation of non-profile assets of financial organisations under financial rehabilitation".
The new lawsuits launched today by TRUST now bring the total amount the Ananyev brothers are being sued for to nearly $700 million. The lawsuits are in Cyprus, not just because the brothers bought Cypriot passports, but because PSB, like many Russian oligarch businesses – had big operations in the small sunny island.
In some ways, the Ananyevs are lucky: they 'bought' citizenship of the tiny EU state, Cyprus, which gave them a passport out of Russia and the right to live in exile in the EU. They bought their Cyprus citizenship – through a so-called 'golden passport' scheme that the EU itself has now discredited – just before PSB collapsed.
Alexei Ananyev, and his wife, Daria, live in exile in Vienna, Austria, using their Cypriot passports, where they live in exile in a luxurious 800 square metre apartment, spanning the entire fifth floor of one of Vienna's most famous buildings on the Hoher Markt. Dmitri Ananyev, and his wife, Lyudmila, live in exile in a luxury villa compound in Cyprus.
Hundreds of paintings and rare books, missing from Alexei's museum after PSB went bust, were found in a storage facility next to a church in a village near Moscow.
Process servers, acting for TRUST, have been trying to serve the new claims for some weeks, but the brothers were seemingly trying to evade them. Alexei Ananyev was recently served the new claims in Vienna, while process servers caught up with Dmitri Ananyev on Friday morning, while as he left the back entrance of his luxury villa compound in Cyprus.
Commenting on these new lawsuits, the President of TRUST, Alexander Sokolov, said: "Our task is to get to the bottom of all the circumstances of what happened and to return the siphoned-off assets". These claims, says Sokolov, will be heard in the District Court of Limassol, in Cyprus, in a full trial likely to be in 2022.
The Ananyev brothers and their wives are currently subject to a Worldwide Freezing Order over their bank accounts and assets, relating to the original €271 million of claims. However, the Cyprus courts allows each of them 'just' $12,000 a month, plus the cost of their legal fees, to cover their essential living expenses. The brothers and their wives applied to the Limassol District Court earlier this year for the freezing order struck out. TRUST objected and judgment is expected in the next few weeks.
Indeed, TRUST says that Cyprus businesses, controlled by the brothers, were crucial to the fraud that brought PSB crashing down. TRUST alleges that the Ananyevs masterminded a scheme to defraud PSB using a shadowy network of companies known as "special purpose companies" (or 'SPCs'') that were not formally owned by PSB but were, in fact, controlled by it and (ultimately) the Ananyev brothers, through intermediary entities. These SPCs formed a hidden network of companies that, amongst other things, were granted new loans that were then used to pay back older, non-performing, loans held by other companies in the shadow network; washing money around the bank and artificially manipulating PSB's overall bad debt figures; and pulling the wool over the Central Bank's eyes.
TRUST says – partly on the evidence of whistle-blowers who have turned state's evidence – that PSB also maintained two versions of its management accounts, one which contained information about the SPCs and one (intended to be shown to regulatory authorities, if demanded) which did not.
The forensic accounting investigation which unravelled the role of these shadow companies, is being led by global audit firm, KPMG; and is said to be one of the largest and most complex ever undertaken in Russia.
On the night of 15 December 2017 – two days before the Central Bank of Russia stepped in to take control of PSB – TRUST says a vehicle, without a numberplate, left PSB headquarters with thousands of documents relating to nearly $1.5 billion of loan agreements. While many have subsequently been recovered, KPMG's process of forensic accounting will continue for many months; and other lawsuits may be filed against the Ananyevs, as further evidence emerges.
Those Cyprus passports, however, may not keep the Ananyev brothers out of Russia's hands. Such was the 'golden passport' scandal so huge – and the EU's anger at Cyprus so furious – the island was forced to launch an independent commission into the passports it sold to foreign tycoons. Following this investigative Commission, headed by former Cyprus Supreme Court Chairman, Myron Nikolatos, it is understood that the Ananyevs' Cypriot passports are on a list of those the Commission believes were issued unlawfully. The government of Cyprus is now believed to be poised to start a legal process to cancel their Cypriot citizenship. The brothers and their wives may end up broke and back in Russia!