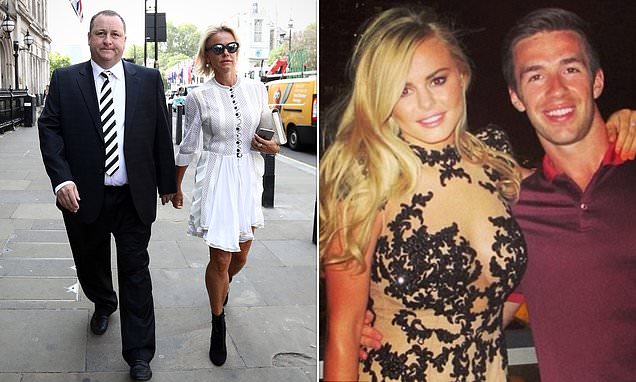 Billionaire Mike Ashley Hands Empire Over to Daughter's Loser Boyfriend
Mike Ashley, the sports-loving, big-drinking billionaire behind the U.K.'s Frasers Group retail empire, has announced plans to step aside and pass leadership to one Michael Murray, currently the group's "head of elevation" who is also reportedly engaged to Ashley's daughter, Anna.
The company said in a statement Thursday that Ashley, who is 57 years old, will walk away as CEO of the $4.3 billion (market cap) empire—which he founded in 1982—on May 1 next year.
Incoming CEO Murray, who is not on the board and remains a new name for shareholders, will take control of a U.K.-based retail group that includes bargain superstore Sports Direct, department store House of Fraser, Evans Cycles, designer retailer Flannels and Game, the U.K.'s equivalent of GameStop.
The statement added that Murray, age 31, would lead the group forward "on this increasingly successful elevation journey."
Retail consultant Nick Budd tells Forbes that the appointment might raise eyebrows, but isn't quite as nepotistic as it first might seem, adding that Murray "has effectively been running the show for a while," albeit away from the board. Budd says, "Despite his lack of experience, he seems like a sensible guy."
Ashley, who built his empire during an era in the 2000s when cheap, cheerful and chaotic stores were the norm, has reportedly been in search of a successor for a while now. In 2019 Ashey told analysts on an earnings call, according to the Daily Telegraph, that "the new generation don't want the old Sports Direct," preferring instead a better presented shopping experience with more clothes picked up and bought from rails, and not the floor.
Retail consultant Bubb says the days of Ashley's "discount bazaars" are coming to an end. He credits Murray for his better-looking "elevated" stores and says that at Sports Direct giant brands like Nike and Adidas did not like the chain's bargain bucket style and needed convincing that the business "really has changed," thanks to Murray's so-called "elevation" process. Going forward, Murray—not Ashley—is likely the best placed to forces these changes, Bubb adds.
Michael Ashley is worth an estimated $3.2 billion. The Frasers Group share price remained largely unmoved by Thursday's news, down just 0.08%.