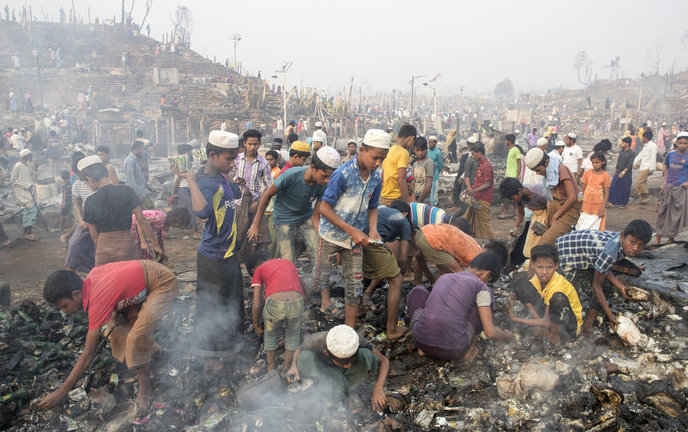 Deadly Fire Ravages Rohingya Refugee Camp
In Bangladesh, rescuers sifting through the rubble from a massive fire at a refugee camp recovered the remains of nearly a dozen people – but hundreds are still missing, according to officials.
Tens of thousands more have been left homeless by Monday's blaze at the Balukhali camp in Cox's Bazar in southern Bangladesh that houses Rohingya Muslims who have fled neighboring Myanmar. After it started, the fire caused panic among refugees as it quickly consumed makeshift dwellings and tents.
Of the confirmed dead, at least three were children, Nizam Uddin Ahmed, a top government official in Cox's Bazar district told The Associated Press. The search for more victims was continuing, he said.
Reuters reports that Bangladeshi officials have confirmed at least 11 dead. Some 40,000 huts were burned down, Mohammad Mohsin, Bangladesh's disaster management and relief secretary, was quoted by Reuters as saying.
Louise Donovan, a spokesperson for the U.N. High Commissioner for Refugees, said that at least 400 people were still missing since the fire, and that some 560 had been injured in the blaze. She said an estimated 45,000 people had been displaced.