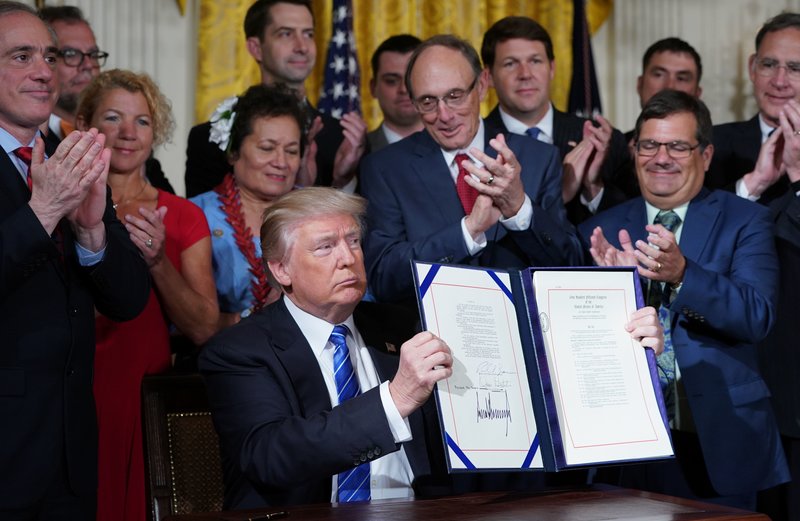 Trump Threatens Jail Term For Protesters Bringing Down Statutes
President Donald Trump on Tuesday stated he will sign an executive order that "reinforces" federal law pertaining to the willful destruction of plaques, statues or other monuments honoring members of the U.S. armed forces.
Trump earlier tweeted about protesters who attempted to topple a statue of President Andrew Jackson which is located in Lafayette Park, across from the White House. Jackson, the seventh U.S. president, has been criticized for his treatment of African AmericanS and Native Americans.
A federal statute already in place subjects anyone who "willfully injures or destroys, or attempts to injure or destroy, any structure, plaque, statue or other monument on public property commemorating the service of any person or persons in the armed forces of the United States to fines, up to a 10-year imprisonment or both."
Trump on Tuesday morning claimed he has authorized the federal government to "arrest anyone who vandalizes or destroys any monument, statue or other such Federal property in the U.S. with up to 10 years in prison, per the Veteran's Memorial Preservation Act, or such other laws that may be pertinent…"
Prior to leaving for Arizona Tuesday, Trump told reporters, "I will have an executive order very shortly, and all it's going to do is reinforce what's already there, but in a more uniform way." Confederate monuments and others tied to racism have come under increased and renewed scrutiny in the wake of the death of George Floyd and resultant Black Lives Matter protests.